Monday, February 29, 2016 9:19 PM
Hi Phil,

As promised I am attaching some pictures from my Adirondack Chair project. I built 2 adult and 1 youth Adirondack Chairs for my daughter, son-in-law and grandson. My daughter will getting hers in March as a birthday present. The others will get there's at the same time but as an early birthday present. While I was at it I decided to make 2 footstools to go with the adult chairs and a table to go with the youth chair to complete the overall ensemble.

The complete Package of Digital Plans (Item # BH-O-025) I purchased worked out terrific. I had the full size plans printed out at a local print shop and then used the templates to cut out all of the pieces. I had piles of pieces stacked up all over the cellar floor. Thought that I would never get the job done but I was diligent in my efforts. I elected to use pressure treated wood and it worked out well for my first Adirondack Chair build. I slightly modified your plans to include a brace across the bottom of the chair rails to stiffen up the frame and aid in assembly. I also elected to dowel and pocket screw the chair arms into the braces and legs. Additionally I used pocket screws to fasten down all of the chair seat slat boards, table top boards and footstool boards to eliminate any visible screws. Everything came out terrific and I'm extremely pleased with the purchase of these plans. I'm now looking forward to completing a set of Grandpa Adirondack Chairs unless my other daughter sees what I just made her sister and preempts my build schedule and priorities.
Regards,
Chris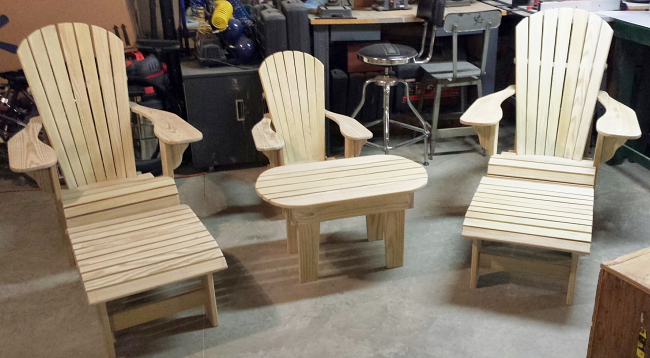 Monday, February 29, 2016 9:13 AM
Hey Phil,

Just wanted to drop you a quick line saying I finally was able to build a couple of chairs the hard way (using only a band saw and belt sander). I did a write-up on it for my website: http://www.midnight-maker.com . After having done it the hard way, I can't wait to cut them out with a CNC. I took one to work and got orders for 6 of them ! Thanks again and I'll keep you updated on any new developments.

Chris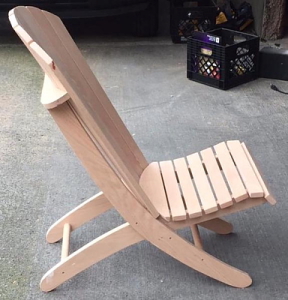 Tuesday, February 9, 2016 10:30 AM
Morning Phil,

I'm sending you a few photos from yesterday's routing of the beach chair templates. If it is at all possible could you give our program here at the High School a credit and / or link on your site? The kids would be very appreciative. If you like these, we will be cutting the Muskoka templates this afternoon. There are quite a few of the chairs being built this semester and I can send some pics of the completed chairs if you like.

Thanks for everything,

David Brannen, www.gphsmanufacturing.org
As you should be able to tell from these pictures, students have made a LOT of your chairs over the years. On average, there are around 2 dozen of them built every school year. You can see in the image of the poplar chair that a student designed their own ottoman for it.

Sunday, September 6, 2015 7:08 AM

Hello Phil, here is a pic of my two chairs and a table finally. I have painted one in red as per my wife's request and stained the second one and the table for myself ;-) Thanks so much again for your plans!
My kind regards,
Andrey, Moscow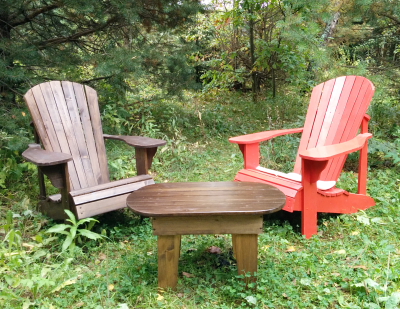 Thursday, August 20, 2015 2:56 PM

Phil- here's pictures of the finished grandpa chairs. Already friends are trying to place orders.... Looking forward to getting the footstool plans.
David Katz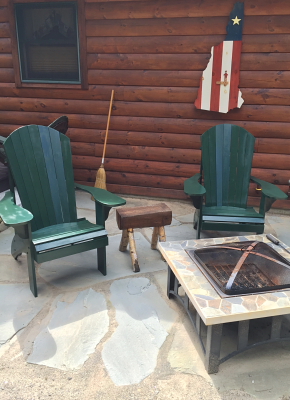 Wednesday, July 15, 2015 9:01 PM
Phil, Thanks for sending the plans. I purchased the folding chair plans from you about 8-9 month ago and we just finished that up. This is our first (trial and error) chair. One of the local marinas wants to see some of these (folding and stationary) and may place an order for several. Not what I was expecting, but they are fun to build. Thanks very much,

Chris

Monday, July 13, 2015 10:04 PM
Mr. Barley, I just wanted to add my comments to all the others on how well designed the chairs and the plans were. A wonderful project to do, and extremely comfortable chairs. My guests have all commented on how they like the more upright sitting position, especially for ease of snacking and chatting. The four I made (of cypress, with an added table) have become the focal point of our patio. Thanks.

Matt Cory, Florida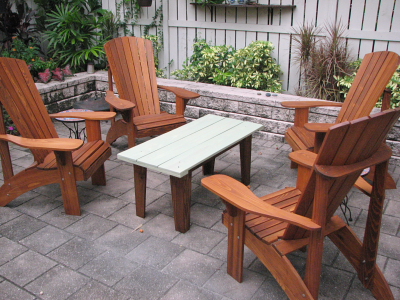 Sunday, May 31, 2015 11:01 AM
Dear Phil, I've just built my first chair and wanted to share my excitement with you. Thanks so much for this fantastic downloadable Adirondack plan, it went smooth right from the start. It's the best one I could find on the web and I can't wait to build my next chairs. All my friends just love it since it's not available over here as you can imagine... All the best for you !
My best regards from Moscow, Russia.
Andrey.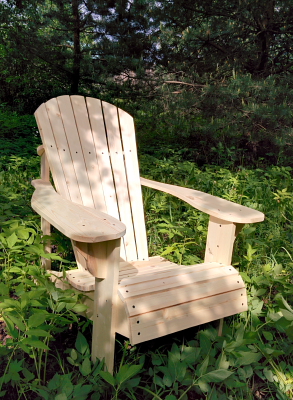 Saturday, May 30, 2015 1:58 PM
I ordered your plans for the Grandpa Adirondack chair last year and built 2, for my wife and me. I built them as a winter project and painted them in the spring. I made them out of pine (to keep cost down) and primed and painted them with two coats of an acrylic enamel paint. Brought them up to our seasonal campsite and placed them by the fire pit. We both them. Thought you might like to see them.
Chuck Viens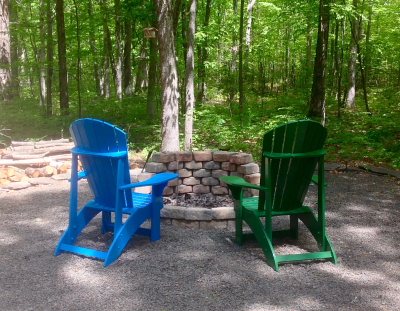 Monday, May 18, 2015 3:47 PM

Phil, these are a few of the Adirondack Grandpa chairs we have made. We've sold several and have orders for a love seat and some of your footstool/end stands. (We just ordered that plan). We've had so many compliments from the buyers on the comfort of the chairs. Thanks so much for improving the design!!!


Gary and Nancy Tatro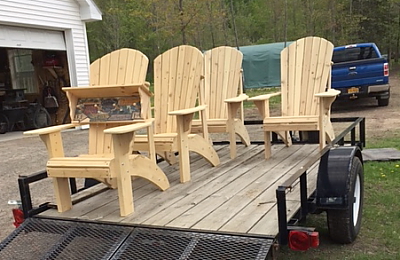 Tuesday, March 24, 2015 7:24 PM
Hi Phil
I love making the chairs and the plans are just great. After making 7 or 8 of them I have tweaked the design just a bit. We sell them at markets here in the Blue Mountains and people love them. I try to make each one unique by the addition of different cut outs each time. I'm disappointed that over here you can buy cheap pine replicas, that last no time at all. Nothing like the ones I make.

Stephen Hawkins, Australia
Available down under at www.etsy.com/ca/shop/Grasshopperinwood?section_id=10566197&ref=shopsection_leftnav_2

Monday, March 23, 2015 8:32 AM
Good Morning Phil.
Just wanted to pass on a couple of pics of your chair plan to you, that I have built. Not professional but it has kept me busy! The 3 on the left are additions to the one I built last fall for my gazebo. They are made out of heavier stock (Cedar) The one on the right is the same chair built from a thinner stock but I added a couple of braces on the legs. They are Beautiful Chairs Phil and are very comfortable and easy to get in and out of ! One of the best plans I have ordered so far! Thanks!
Brian Cumming

Friday, January 16, 2015 3:32 PM
Hi Phil,
Made my first chair out of your plans. It came out great! I used native, white pine. I was very impressed with the accuracy of your full size templates. The chair sits really comfortably and is easy to exit with the high height. Already cutting out the second chair for a matched pair.
Thank you and have a great year!
Tony Gasbarro

Tuesday, January 6, 2015 4:22 PM
Hi Phil,
Greetings from Robertson, Australia. Here's a couple of pics of the two chairs that I finished just before Christmas.
I'm really happy with the result. They look great and are nice and comfy. Thanks Phil and all the best for the New Year.

Cheers,
Peter Goodall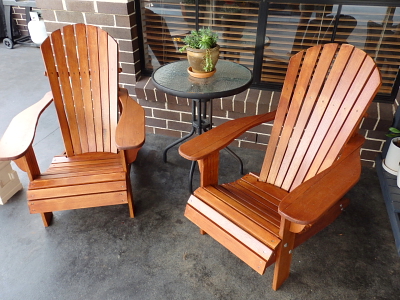 Friday, December 19, 2014 5:17 PM
Just wanted to show you my finished Grandpa Adirondack chairs and tables.
I have suggested to my woodworking friends on various sites to get your plans. I hope they have !!
Kelly Fuller

Tuesday, August 12, 2014 10:17 PM
Built your Grandpa Adirondack. Love it
Job Stevens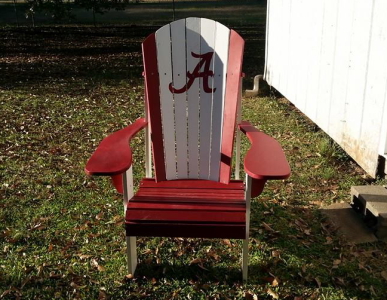 Friday, October 24, 2014 3:43 PM
Phil -

Just wanted to say thank you for the plans & answers during the project.

Thanks,
Jeff Fedor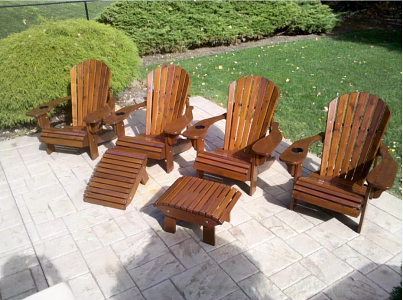 CLICK HERE for a complete step by step construction process of Jeff's widened Folding Chairs.

Monday, October 20, 2014 3:57 AM
Hello Phil,

The first two Adrondack chairs for kids are made/built as you can see on the photos. Almost all the people have seen the chairs asking me to build chairs like these for them.
Regards,
Rainer Lersch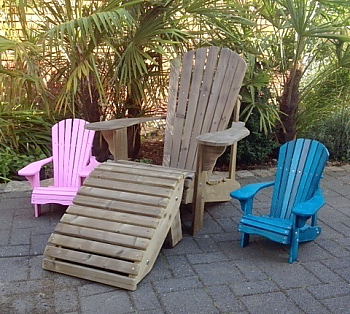 Monday, August 11, 2014 4:03:27 PM
Hi Phil. I am still making chairs and enjoying giving them away. I painted one Grandpa chair the team colors for the Boston Bruins and another for the New York Rangers hockey teams for my sons...they look great side by side! Thanks Phil.
Coleman O'Toole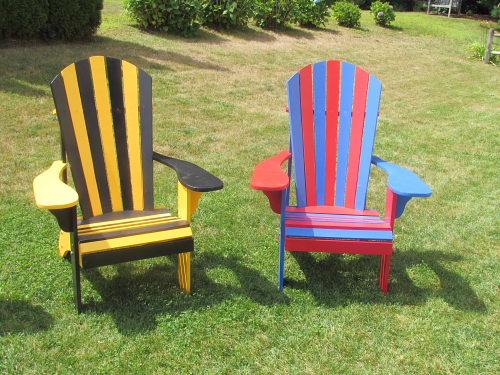 Monday, July 7, 2014 10:08:11 AM
Good Morning Phil,
I wanted to send you another photo of a second Adirondack that I recently completed. This one was made out of some local, gorgeous Red Cedar, and rubbed with more Tung Oil than I would like to admit. I couldn't stop oiling the chair, since every application just made it more beautiful. I chose to use all Stainless Steel hardware for the longevity of the chair. She's absolutely beautiful! Thanks again for your design. I decided to make a taper sled for this one, and couldn't believe the time it saved for the tapered pieces. Thanks for that one as well.
As always, keep up the great work, and I can't wait to try out a Settee soon!
Derek Davis, Design Drafter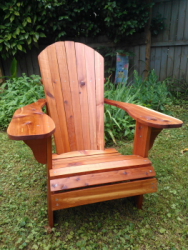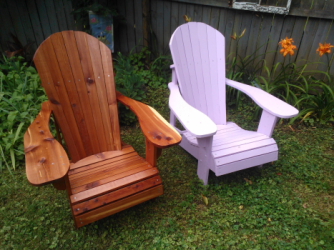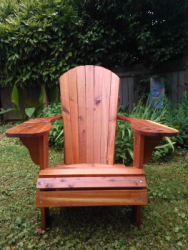 Monday, June 16, 2014 2:12:08 AM

Hello Phil
My first Adirondack Chair. Thank you again for the plans. The chair is so beautiful and very comfortable. I'm totally pleased.
Best greetings from Germany

Rainer Lersch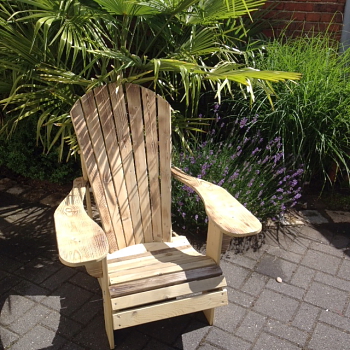 Monday, May 19, 2014 11:25:03 AM

Phil, I just wanted to say thank you from North Carolina! I had researched several different plans, and went with yours. I couldn't be any happier. This was my first time attempting to build a chair, and it went together quite well. I decided to build this for my wife for Mother's Day (hence the lavender color). She absolutely loves it, and I now have more requests to build more than I have time for at the moment. Again, than you from NC! Keep up the great work!

Cheers!

Derek Davis, Design Drafter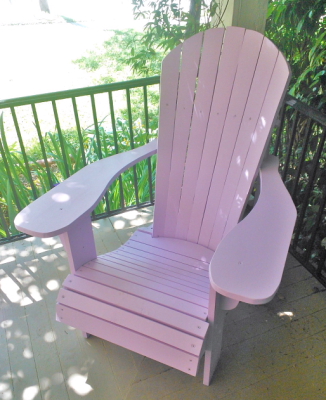 Thursday, April 17, 2014 8:14:57 AM
Hi Phil - I wanted to thank you for the downloadable CAD plans. The plans were well done and easy to follow...attached are the chairs I made for our twin grandsons first birthday....next up...my Grandpa chair!

Thank you!!

Coleman O'Toole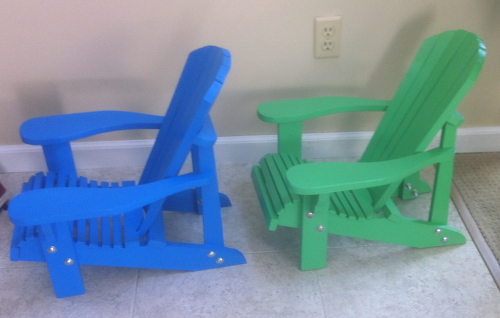 Tuesday, October 22, 2013 3:12:34 PM
Hey Phil,

Wanted to let you know I love your chairs. I have built 6 so far, 2 with the settee kit and anyone who comes over will not sit anywhere else. I plan to build more and more until I am out of room! Attached you will find a photo of my "paint booth" and a few chairs after a fresh coat!! Thanks!

Robert Rushford, USA

Tuesday, May 14, 2013 6:20:20 PM

Hello Phil,

I build a Muskoka chair Grandpa. I am very happy, I could understand very well your project, but I made some changes, hope you like the idea. I am sending the photos for you to check. I did this first with eucalyptus wood, I'll make the next yellow pine, already ordered the wood at the sawmill. A big hug my friend, here in southern Brazil.

Edmilson Feldmann, Brazil

Tuesday, May 15, 2012 12:14:40 AM

Hello Mr. Barley,

I ordered your Muskoka chair plans about a month ago. To be honest, I was interested in a couple other plans as well, but I was hesitant, not knowing what I was getting. Turns out I was pretty satisfied with your plans. That has not been the case in all of my interactions purchasing plans online.
I made the back slats taller, and widened the whole thing a couple inches. I also made everything but the back slats out of 5/4. The "Beefeaters" as I call them just look more appealing, and they just feel more solid, and comforting. Anyway, nice job.

Greg Hobson, USA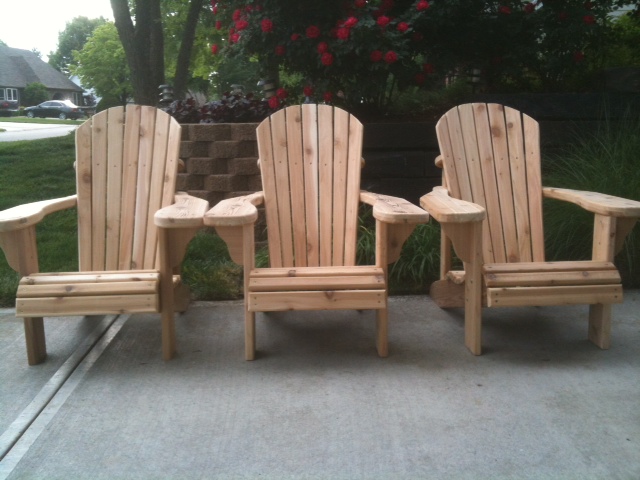 Tue, August 30, 2011 8:56:43 PM

Phil,

I recently completed my Adirondack chair per your design and template pieces. I wanted to pass on to you how pleased I am with the chair and its design. I am a novice woodworker but, having never built a chair before, was able to cut out all of your template pieces and assemble the chair using the pieces and instructions. That's not to say I was not ever confronted with some challenges, but overcoming them is part of the fun. And the chair is beautiful! I think your design has captured the classic Adirondack lines and elegant curves and tapers that result in a very attractive chair that is both functional and comfortable. Ever since I took on this project I have been attuned to the form and construction of other Adirondack chairs I have seen in stores or at friends' houses and am proud to say that I have seen none better in either category than mine. I couldn't be more pleased. I have attached a photo of my completed chair.

Chuck Hedel, USA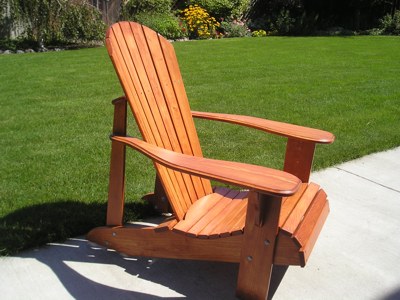 Thu, July 7, 2011 5:21:53 PM
Hi Phil

Here are the realisation. I hope that the teacher is pleased of the work done by the Frenchy
Thank you for your plan!! The grandpa is very confortable are very easy to sit in and out. I give it to my father (81 years old)

Best regards from Paris

Stéphane MICHEL, France

Thu, April 7, 2011 5:46:59

Here are some pictures of the realizations regarding your plans. I had a lot of fun doing them.

Stéphane MICHEL, France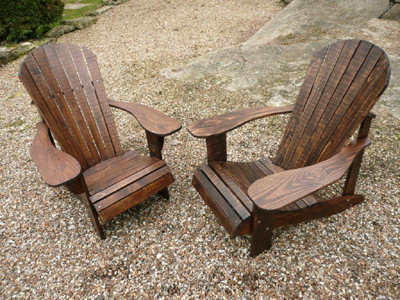 Adirondack in a Parisian garden

Sat, December 25, 2010 9:06:40 AM
I thought you might like to see the chairs I made for my Grand-twins 1st birthdays. Plans were great. I used cedar pickets which measured about 9/16" rough. I don't have a planer or jointer so I just used my random orbital sander to smooth the stock to 1/2". Thanks and Merry Christmas!
Mark Sylvester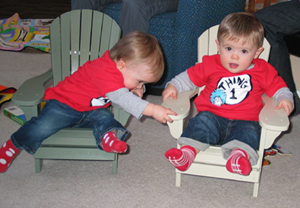 Wed, July 28, 2010 5:16:22 AM
Hi Phil, How are things? Please find attached pictures of the chair I built with your plans. Sorry it has taken so long but finding time was difficult. I intend to make quite a few more as a lot of family have liked it.
My father in law was over the moon with it and he loves it. Thanks again for sending the plans.
Steve Wilson

Thu, July 8, 2010 8:28:07 AM
I have bought several sets of plans from you and they have all been outstanding. I can hardly wait for this set to get here so that I can get right into building a couple of these folding Adirondack chairs.
Here are a set of chairs made from pine and painted. These were gifts to the hostess of our local Gardening Club for having the party at her home.
For the arms I use a 1/2" round-over bit set about an 1/8" deep to create the line and on all the other pieces I use a 1/4" round-over bit set about a 1/16" deep. You just spray the paint on the flat surfaces and when it dries use painter's tape along the edge and then paint those edges with a small brush.
If the chairs are not going to be painted I simply do the arm rests the same way but use a 1/4" round-over set at the right depth to just round the edges of everything else.
I have also learned the hard way that it is much safer to use stainless steel screws to assemble these chairs, especially of I am using red cedar. I used plated screws on one of the red cedar chairs and had a complaint. The man brought it back to me after about one years use and showed me the the wood had rotted around nearly all of the screws. After doing a little research I found an article that said the plating and the oil in cedar have a negative reaction with each other and will cause this early rotting. I built the customer another set of chairs, at no charge, and this time I used stainless screws. That was a few years ago and he has had no problems since. Now I use stainless screws on everything and have no problems.
Thanks for all the effort you have put into creating these plans.
Dean Nolte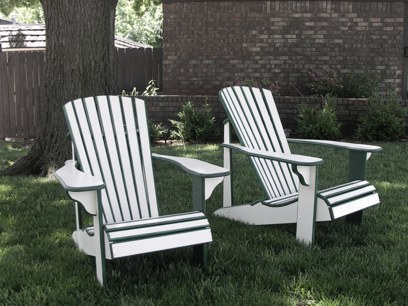 Tuesday, August 11, 2009 12:52:10 PM

Couldn't resist showing you the final Folding Adirondack Chairs. I'm going to make two more (raspberry and purple….to match all of the colors in the hammock) next summer….because four just isn't enough around our new fire pit.

John Putnam



Monday, June 29, 2009 11:24:16 PM
Hey Phil. I got a couple of chairs finished today, thought I'd send you a pic.
Might join them up later..just want to sit and enjoy them for a bit :)
Thanks again for the plans.

Brad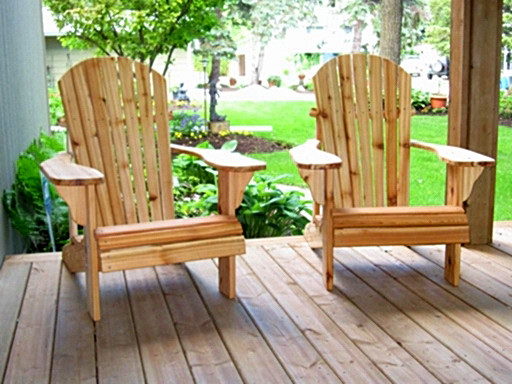 May 30, 2009 3:11 PM
And then there were 2. Here we are folks. Adirondack chairs built by the finest craftsman. That would be me!! They are built from cypress purchased from Gatesville milling. Awesome plans you have Phil. We'll be doing business again. I enjoyed building them and I need some for myself, but I have to sell a few first.
Justin Ward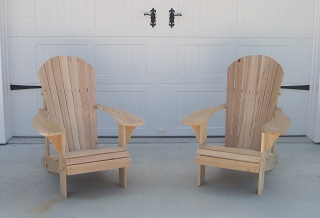 Friday, March 13, 2009 7:54:55 PM
Phil,
I purchased your plans for the Adirondack chair about two weeks ago and wanted to share the finished product with you. I made it out of red cedar that I actually found in the loft of my garage when I bought my house. From talking to my neighbor I found out that the owner of the house two owners before me was also a carpenter and had grown the cedar trees in my yard and had the lumber milled about 30 years ago. So here we 30 years later making chairs for the back yard from trees that were grown there. I want to thank you for sharing your plans with me. The chair was extremely easy to make, the plans are very easy to follow and the patterns made quick work of the layout. I still have to make one more for myself but after that I plan on making the next set for my parents. Thank you for the great plans and I plan on buying plans/patterns from you again. Below is a picture of the first chair.


Thank you,
Rick
West Deptford, NJ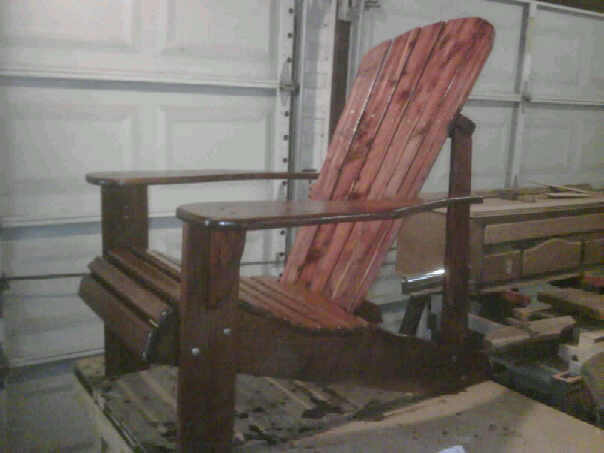 Thursday, October 30, 2008 10:29:42 PM
Loved your plans (made a few alterations). Thought you would like to see how it turned out. A bunch of my friends and I are going to build a bunch to take to the next Jimmy Buffet concert.
Gary Smith

Monday, August 4, 2008 12:11:45 PM
Hi Phil,
I wanted to include photos of my finished chairs. I've made 12 so far for family and friends. All were made from ¾" cedar boards. I've always chosen the scalloped tops for the backs, but plan to make a set with the traditional finish. I've ordered the children's plans, and will giving these as gifts to my nieces and nephews.
Regards,

Duane McDonald, Neenah , Wisconsin

Monday, March 24, 2008 8:07:34 PM
Thanks for these great plans, I had lots of fun making these first, but certainly not the last. I made them of dutch grown western red cedar that was planted as a test in 1930 and harvested last year these are really great chairs.
Best regards,
Han Balen (Belgium)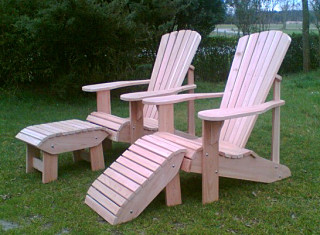 Sun, 22 Oct 2006 01:11:24 -0400

Re: Muskoka/Adirondack chair plans

Hi Phil,

I got the first pair of the muskoka chairs built, I have yet to built the footstools, table, etc. I took them up to my parents as a surprise gift today, they really liked them. I'm quite pleased with the way they turned out, especially since it's my first attempt. The plans were excellent, I really enjoyed the project and am looking forward to building more for myself and possibly some for some friends, and some of the children's and youth sizes for my younger relatives. I used western red cedar, the frame is made of 5/4" deck lumber, the arms and arm gussets are made from a 2x8, and the slats and back are made from 1x6" fence boards. I used a 1/4" roundover on the slats and the back boards, and a 1/2" roundover on the arms. I used brass screws and stainless carriage bolts, and finished the chairs with one coat of Sikkens Cetol 1 and two coats of Cetol 23, in "077 Cedar". I've attached a couple pics of the chairs. Thanks again for a terrific set of plans!

Regards,
Mike Morrison, Barrie Ontario, Canada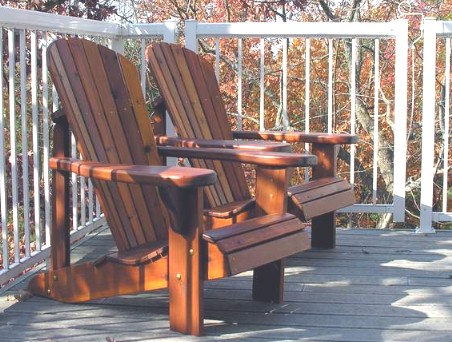 Sent: Sunday, August 13, 2006 9:05 PM
Subject: Re: adirondack

Hey Phil,

I really want to thank you for publishing the plans for the adirondack chairs. To think I was going to pay $140 for one chair and one footstool that I built myself for much less. In fact, I've built 4 chairs, and 2 footstools (all in white cedar) for $145 !
None of the chairs are the same as I've modified each one. The original is fine for me but not so for other family members. I've widened the chair to 22" which is much better and I've had to lower it and make the length of the leg shorter as well. Instead of using more space, or widening the slats, I added an extra center back slat. The 3 inches was enough to accommodate. It was easy to do.
Phil, I'm a young, female teacher with very few tools or carpentry experience but I was able to make this chair. So if I can do it, anyone can. Thank you, thank you, thank you. I'm including a photo of my original chair along with one that I modified (22" chair). I'm a satisfied customer.

Sincerely,
Shelley in Prince Edward Island, Canada
.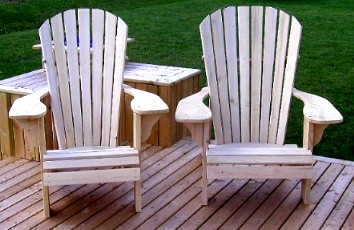 Wednesday, 1/4/2006

Hi Phil
I finally received a picture of one of the chairs I built using your plans. Except for the seat and back slats 5/4 stock was used on the back and bottom arc support, making them wider so I could use my Kreg jig system. They are glued and screwed so no screws show. The back slats are held in place, then screwed from underneath the back arc support. I had to figure where to drill the holes in the arc so it wouldn't interfere with the back support legs and to make sure it would work out centered on each back slat.
The same was done on the bottom slats by drilling out the sides, making sure the holes would line up. This all takes more time and work but the result was worth it. They are all glued and screwed using deck screws as opposed to the Kreg screws which I save for cabinet work.

Judy Marshall

St. Thomas, Ontario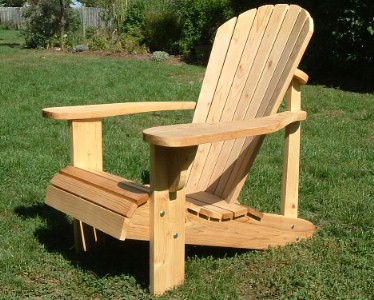 Thursday, 6/2/2005

Hi Phil,

I have built several of the chairs out of Eastern red cedar and they turned out beautiful. But I wanted to send you some pics of the latest one I built, I think it is my favorite.
The seat and back are Red oak stained with Min-wax Golden Oak stain. All the frame is made from Poplar Painted a dark hunter green. I thought it was rather unique.
You can post the pics if you find them acceptable. I absolutely love all the plans. The design is the best I have found anywhere. I can't build enough for the family.

Thanks, Calvin Siler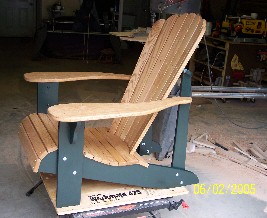 Monday, 5/4/2005

Hi Phil,

Here is the finished work.
I am completely proud.
But we do not want forget good plan - good result
The first Adult Adirondack Chair in South of good old Germany ( Black
Forest)
Thank you very much and have a great time

Hans-Werner HAUSER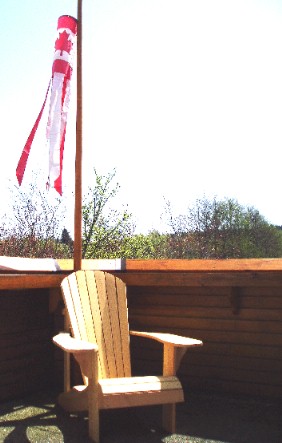 Saturday, 10/30/2004

Check out these "Hockey Stick Adirondacks", made by the Grade 11 Construction Technology Class at Sir Oliver Mowat Collegiate Institute, Scarborough Ontario. Their teacher, Mike Turner, downloaded the adult chair plans for the basic carcass, then used hockey sticks for the back and seat slats, as well as the arms......well, if there is no hockey to watch this year, you might as well get into the shop and make some of these for your games room !!!

Wednesday, 5/12/2004
You may be proud to know that your adirondack chair design is now also in The Netherlands, Europe. Classic design, almost impossible to find and/or buy overhere.
I made the chair of Robinia wood, a very strong type of wood and has a natural red/orange glow. I must say, sawing was the hardest, because of the strong wood I've used, but assembling was easy.

Thanks again,
Erik Stuurop
Egmond aan Zee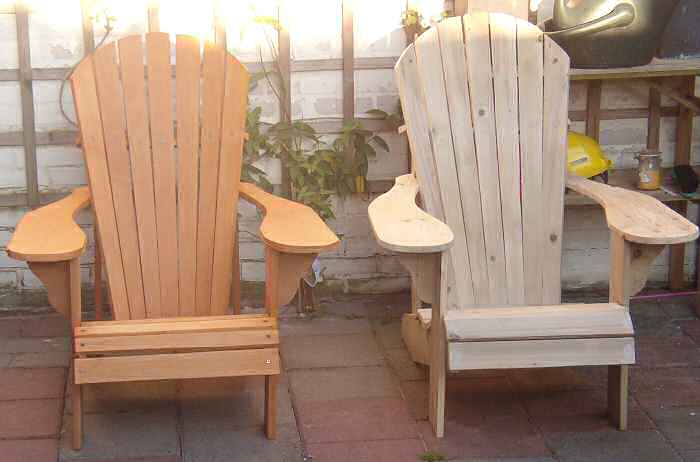 Thursday, 2/26/2004

Your Adirondack/Muskoka plans are great! So far I have built one in each size. Cedar for my wife. Teak and hickory with brass screws for my grand boys (age 4 months and 4 years). The kid sizes are GREAT! They built fast and will last forever, and they are small enough that exotic wood won't break the bank. The teak and hickory made for very strong and heavy chairs – very stable for the kids to be climbing on.

I have orders from the wife for two more of the smallest size for baby showers. I have a few purple heart and maple boards… okay, not your traditional cedar but fun to make.

Picture of the grandsons in chairs attached.

Thanks! I'll be in my shop if you need me…

Bob Marner, San Diego CA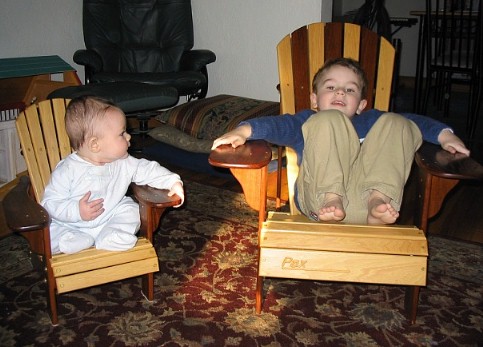 Wednesday 06/19/2002

I've been looking for this style of Adirondack Chair plans (Muskoka Chair)for a long time. I made this same style of chair when I was about 12 years old -- that would have been about 1945. I still have the plans, but over the years they've got tattered in storage and so I've been looking for replacement plans for the last 5 years or so, because I would like to make this chair again, but up to now all those that I've seen do not measure up to the design of this chair(I've ordered a set of these plans). It gladens my heart to see that some one has taken the time to make the plans for this chair and offer them to the public.

Many thanks.
Paul Koluvek
Hi Phil,

I finished the 2 chairs and delivered them to my sister during the last weekend in October. My sister was very pleased with them. The Chairs were made from cedar and finished with General Finishes' Clear Outdoor Oil.

As you requested I am attaching a picture of me in one of the chairs.

Regards,
Paul Koluvek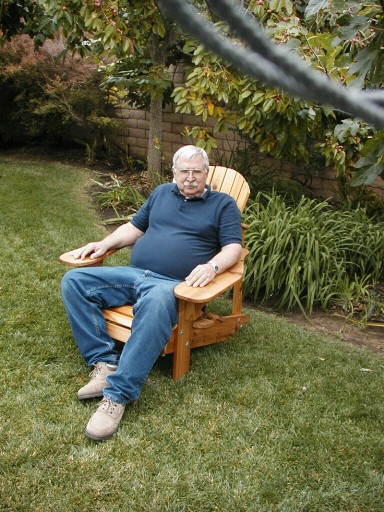 Tuesday 08/20/2002

Phil
In the 40's, my dad and uncle built chairs very much like your adirondack plans. And like you, I fell in love with the comfort of the style. The chairs were left behind when my parents moved and I was in the service, so..... I have been looking for a similar set ever since. so far yours has been the closest. Built the chair yesterday and with a little tweeking I'll have just what I want. Unfortunately, I've gained a few pounds since I was a kid and I hate to tell you, but your "generious" 19", ain't so generious anymore. I'll deal with it, and thanks for rescuing one bit of our past that was so great.

Levi Strauss